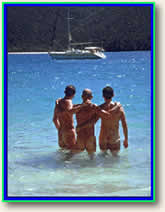 We pride ourselves in finding the perfect romantic LGBT travel friendly yacht charter for all our clients! We support unforgettable gay travel vacations. We are competitive with Olivia Lesbian travel, yet we offer privacy for you and your partner and/or group. We interview every crew on all the yachts that we represent with the utmost care to find those that will assure gay sailing and lesbian cruise guests are very comfortable and welcomed. We look for crew that are open minded about varied lifestyles.
We make notes of all the most gay friendly crews over the years and now have many gay and lesbian clients who return again and again. We make sure you feel right at home being who you are while on a special vacation. Sail in any of the amazing charter destinations being completely spoiled and truly yourself.
Snorkel, water play and sun bathe in secluded coves from your private yacht in one of the world's best cruising areas. Party at the best bars or simply relax and enjoy being treated like a true king or queen. Gay and Lesbian sailing vacations your way, privately and with style.
Please contact us for a list of our most gay and lesbian friendly yacht charter vacations. Also combine your gay friendly request with clothing optional sailing or Romantic Charter as well, if that suits or unsuits you!
Browse the available crewed sailing or motor yachts for Gay Sailing LGBT Travel Yacht Charters with a Yacht Search.
But, don't just believe us; here are some words from previous gay and lesbian charter guests:
"We had an wonderful vacation with captain Gary. He was the perfect captain — a very skilled/ knowledgable sailor, and at the same time a warm, friendly, absolutely fun free spirit who helped us all to enjoy ourselves to the utmost. In short, we had the ideal vacation experience, and Gary helped make it all happen. It probably also should be mentioned that the yacht was a beautiful, comfortable, very well-maintained boat."
"The experience met and, in many ways, exceeded our expectations. Truly one of the best vacations we have ever had. Vlad is an exceptional captain and sailor and he did a terrific job entertaining us as well. Nalalie's calm demeanor, friendliness, and culinary skills were an absolute pleasure. We could not believe what she produced each day from that small kitchen–such flavors and wonderful presentations. The yacht was clean, well stocked, and large enough for our 6 person group so that we never felt cramped. Overall a great vacation!"