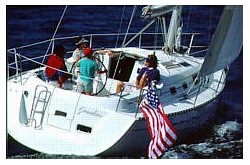 Have you always wanted to learn to sail or get a bareboat certification so you can rent your own yacht? There are Caribbean crewed private yacht charter vacations offering sailing lessons, or you can arrange for instruction on a bareboat.  See details and FAQs answered below.
From beginning boat handling to bareboat certification to advanced coastal cruising, there is no better way to learn to sail than with an experienced captain on a private yacht charter.
We offer sailing courses taught on owner operated vessels with a crew that care about giving you quality personal sailing instruction and sharing the live aboard experience, or on a bareboat charter with a hired instructor. Your sailing campus is the world renowned cruising classroom of the recommended Virgin Islands. The best learning vacation ever! 

See American Sailing Associations (ASA) Course Descriptions for details of the various levels of sailing certification. You can take as many courses in a week charter as you are capable of mastering.
There are fully crewed charters with a chef onboard so you can keep your focus on sailing. Or if you prefer to do the cooking and cleaning yourself, then you can charter a Captain Only yacht or bareboat with instructor.  Also ask about our Blue Water Sailing Adventures if you are looking for off shore experience.  Please  contact us for specific yachts that offer sailing certification or casual sailing lessons.
"Our cruise was scheduled as a learning experience–leading to bareboat charter certification. Byron (captain) was a great source of knowledge and a fine instructor. Even days when the wind died were put to good use. I must have gotten answers to at least 5,000 little questions. This was our first "big boat" sailing experience, and we both left with a lot more confidence in our abilities. We spent the whole week with big grins on our faces. Thanks for a great time!" – Mitch and Anne West, Portland, Oregon.

You Can Learn to Sail on a Yacht Charter!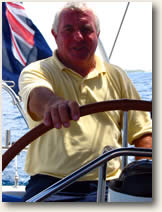 If you would love to sail and someday charter your own bareboat or buy a yacht of your own, but are not quite as confident as you would like to be, then consider taking an ASA Sailing Course in the Virgin Islands on a bareboat or private charter.  In The Wild can arrange for you to take rent a bareboat or private charter and take introductory courses for beginners to more advanced sailors who want to bareboat charter or own their own yacht someday.
The Virgin Islands warm tropical climate and prevailing Easterly Trade winds make it the perfect location all year round for sailing courses. However, courses may also be offered in other cruising areas. Please inquire.
We can arrange a 5 day Basic Sailing Course for beginners on a 36ft+ bareboat. This course is an introductory standard familiarizing students with sail terminology and the rig. Progressing onto points of sail. At the end students will be confident taking out a small boat in familiar waters without supervision. Building on these skills students can progress onto ASA Basic Coastal Cruising moving up in the size of boat. Emphasis is put on safety equipment, boat handling under power, VHF operation, chart reading and troubleshooting. A brief introduction is made on anchoring, docking and navigation. Further progression will lead to Bareboat Chartering. At the end of this 5 day course you will be able to skipper a 30-50ft yacht by day in coastal waters.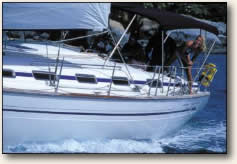 Maybe you feel ready to skipper but just want a little extra tuition in specific areas such as docking or anchoring. These two areas are usually weakest since there is often relatively little opportunity to practice. Let's face it who wants to let you practice docking their boat! You can also get crew training for those skippers bringing down family or friends with limited experience. Relax and let the experts teach your family safe winch wrapping techniques, how to tie fenders and lines or how to be a safe handy crew member to you!
Whatever standard you are a course can be customized to suit your specific needs whether it is an ASA certification course or if you prefer to simply have an educational vacation with no certification, we will find the right yacht and captain instructor to get you to where you want to be. The most important part is you will have lots of fun doing it! Whatever your needs are, give us a call or email us and we will be more than happy to answer any questions you may have.
What type of boats are the courses taught on?
The choice is yours. You can select from a fleet of bareboat monohulls ranging from 36ft to 52ft. There are not yachts set aside for teaching purposes. You make your own choice, however, novices should ask for advice on a suitable yacht for the Basic Keelboat Course.  On a private yacht charter, you have more flexibility of choice.  You can choose a a classic yacht or even a catamaran, as the principals of sailing work on any yacht.  Another benefit of a private yacht charter is that the crew takes care of all meals, preparation and cleaning so that you can focus entirely on learning and enjoying your vacation experience.
How much study is involved?
As with anything in life nothing comes to us without some work! It is a good idea to purchase the books ahead of time and read them, however, the instructors are aware that not everyone does! Therefore, they have become adept at providing you with all the information you will need to know during the course, so don't lose any sleep over it – but it will help out if you can read the books first.
What books do I need?
Sailing Fundamentals by Gary Jobson – this book is required for Basic Keelboat and Coastal Cruising Course.
Cruising Fundamentals by Harry Munns – for Bareboat Chartering Course
Experienced sailors – Challenging the Standards requires both books
Both these books are available at most large bookstores or can be purchased on the internet at either Barnes and Noble or Amazon.
Can I do more than one course in a week?
Yes, but it's not recommended for complete novices. ASA advises that sailing experience is gained between each sailing course and cruising experience is required after taking Coastal Cruising before beginning Bareboat Chartering. However, the first two courses or the last two courses can sometimes be combined in a seven day period depending on how students progress and how hard they want to work – not forgetting that it's your vacation too!
The usual duration of the courses are:
Basic Keelboat – 5 days (Combined with Safe Handling course)
Coastal Cruising – 2 days
Bareboat Chartering – 5 days
How much does it cost?
You choose the yacht you would like to rent and we will be happy to give you a price on the bareboat fee or fully inclusive private charter. Add the general ASA Instructor's fee of somewhere around $165 per day not including (food and other running expenses on a bareboat) or gratuity for crew, and between $60 to $80 per person for the ASA Course Materials, depending on the courses taken. Food and beverages and cooking and cleaning and full crew and yacht expenses are included on a private charter. On a bareboat you pay the charter rate for the bareboat of your choice plus a per day rate for the captain (they need their own cabin also) and instruction and do the cooking and cleaning yourself. The captain's instructor rates may vary so we will give you a quote upon request.
If you would rather not worry about cooking and cleaning and extra expenses while doing your Learn to Sail course, consider taking the course on one of our private fully crewed all-inclusive learn to sail charters.