Croatia Yacht Charter Itinerary
The long, rugged Dalmatian Coast of Croatia, with its high mountains and hundreds of offshore islands, is makes a Croatia yacht charter itinerary one of the world's prime motor yacht and sailing destinations.
Many are being attracted by the delightful Dalmatian cuisine and each island's unique character, from trendy hotspot to secluded getaways.
The coast is dotted with everything from major cities such as Split and Zadar to picture-perfect beaches. Also, a Croatia yacht charter will have plenty of historical interest. The history of Dalmatia stretches back to the Paleolithic era.
There are many possible itineraries that a yacht charter broker can arrange with your captain. Below is a sample of the highlights to enjoy for a suggested Dalmatia Coastal Croatia Yacht Charter Itinerary.
Dubrovnik to Trogir/Split Yacht Charter Sailing Itinerary
Day one – Dubrovnik
This Croatian sailing itinerary starts at the historic and timeless walled city of Dubrovnik, Croatia. You will cherish the walk around its narrow streets and picturesque harbor, relaxing in the coffee houses of the old town plaza and taking in the historical value.
Dubrovnik has monuments dating from the 14th, 15th and 16th centuries. The town has been painstakingly reconstructed following the destruction during the war in 1991 and 1992, when 68% of the buildings were damaged or destroyed. Dubrovnik is once again one of the jewels of the Adriatic.
Relish a lovely dinner on board as the sun sets, or in one of the scrumptious Dubrovnik restaurants. Whether you are doing Dubrovnik bareboat sailing, crewed sailing, or from a luxury motor yacht, the city is a stunning destination, perfect to start your week exploring Croatia!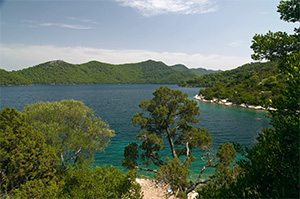 Day two – Pomena on the island of Mljet
The wild, untamed Dalmatian island of Mljet is a paradise for anyone looking to get away from it all. Half of the island is a pristine Croatia national park. There are very few residents, no large towns and only one major road.
A good sail to the north of the island of Mljet brings you to the small town of Pomena. From here you can walk or take a boat ride to the two lakes Malo Jezero and Veliko Jezero. The lakes are connected together by a channel. Wander along the lakes on meandering paths shaded by pine trees, ride a bicycle through the magnificent park, take a kayak to paddle the lakes or simply swim in the gloriously clear blue water.
In the middle of Veliko Jezero is an islet with a Benedictine Monastery, originally built in the 12th century, but has been rebuilt several times since. It's now a restaurant, accessible by yacht. These lakes and the monastery are a highlight of Croatia and are a favorite with everyone that visits them.
Day three – Luka Velji Lago on the Island of Lastovo
The island of Lastovo has only recently been opened to foreign yachts. It is therefore mostly unspoiled by development although there are now a few holiday homes being built. The island is noted for its 15th- and 16th-century architecture.
There is a large number of churches arising from its Roman Catholic tradition. The island is well known for its Carnival, and during the summer it hosts many music festivals.
There are several secluded anchorages where quiet shelter can be found for the night.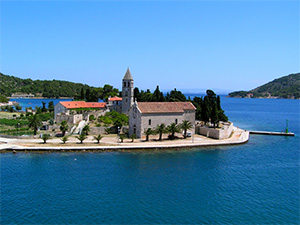 Day four – Vis
The remote Croatian island of Vis is the western most of the larger Dalmatian islands, two and a half hours by boat from Split. Vis town is on the southern slopes of Gradina Hill, situated in the quiet bay of Luka. It has only been open to yachts since 1989 and is therefore relatively unspoiled and a jewel to experience from a yacht charter.
Vis is as stunning as Capri was before hordes of tourists descended upon it! Despite its picturesque Mediterranean beauty, its glorious olive groves and vines, its ancient ruins and deserted beaches, Vis (somewhat unbelievably) still has virtually no tourists!
Vis is famous for its Vugava and Plavac wines made from the local grapes, which we highly recommend that you sample.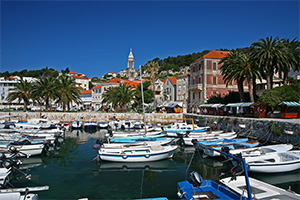 Day five – Hvar
After a great sail across Lastouski Kanal, arrive at the island of Hvar and the main town also named Hvar. This is a beautiful town with a wide open central plaza, a magnificent clock tower at one end and a small fishing harbor at the other.
The town has some excellent jewelry shops. Hvar island is famous for lavender – a walk to the lavender fields is an aromatic and aesthetic delight.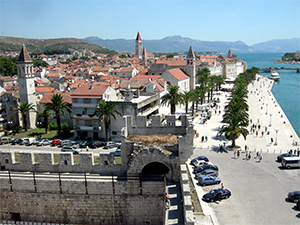 Day six – Trogir
Leave early for a sail to the town quay at Trogir. This is a really beautiful and bustling old Venetian town. The town is fortified with a castle at the end of the town quay. There is a strong Italian influence with many interesting shops, courtyard coffee houses, and enjoyable restaurants. The town quay is where everyone congregates. Eat onboard your yacht and watch the world go by – it's lots of memorable fun.
Day seven – Departure from Split
Do some last minute shopping and say your good-byes before the short 10 minute journey to Split airport. Alternatively, one can also depart their yacht charter from Split itself!
Northern and Southern Dalmatia
The nearly uninhabited archipelago of the Kornati islands in the northern Dalmatia Croatia Coast is only accessible by boat and offers a fascinating geomorphology, a greatly indented coastline and a rich diversity of marine life. Although you can moor anywhere (in numerous bays and natural shelters), the main marina of the Kornati Islands is the ACI-marina Piskera (open April to October). A trip through the Kornati Islands can be combined with a trip to other National Parks in Croatia along the coast, such as Mljet and Krka.
The cultural highlights and natural beauty of Dubrovnik, Hvar and Korcula make the southern Dalmatia great to include in a sailing itinerary. Some people prefer the southern coast , since the weather can be sunnier, warmer and more stable than in the north.
More adventurous sailors can sail to Palagruza, an island about 1300 meter long and 200 meters wide located in the middle of the Adriatic Sea, between the Italian and Croatian coast. It is the most remote Croatian island and is famous for its protruding lighthouse, built in 1850. Nowadays, the only inhabitants of the island are the lighthouse keepers. However, because of its isolated position, natural beauty and the rich fishing area of the surrounding sea, Palagruza is a unique tourist destination and has always attracted many fishermen and sailors.
From there you can even continue sailing towards Italy. In that case, don't forget to moor at the beautiful Elaphiti Islands, most of which are only accessible by a private boat or yacht charter.
Browse the available crewed sailing and motor yachts for a Croatia Yacht Charter Itinerary with a Yacht Search.
Speak to a charter broker 888-730-SAIL (7245)