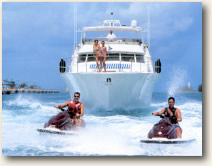 If you love to play in the water you will have a blast on a water sports oriented yacht charter. Some yachts have all kinds of water toys for you to enjoy and we find you the ones with the fun you crave!  So come make a Splash in the beautiful seas of any charter destinations.
Among the water activities to revel in are; water-skiing, scuba diving,snorkeling, underwater photography, kayaking, knee boarding,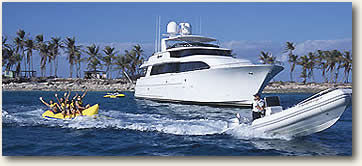 These charters can be the perfect family vacation package with plenty for everyone to do.  And best yet, if you choose a crewed charter, the water toys are included, so do as much as you can with no rental fees or time limitations! Scuba charters might have some restrictions and gear rental required.
From luxury motor yachts with wave runners and powerful tenders to spacious sailing catamarans with all the dive gear and pull toys you need, there is a charter option in your budget.
Browse our charter destination options above or do a Yacht Search to begin browsing the amazing possibilities for water fun crewed charters.  Then check with us for favorite water sport adventures available on your dates of travel.

Other than the basics like snorkeling gear, here are some water toys that might be included on yachts: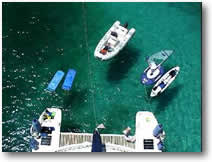 underwater ski scooter
Aqua Naut underwater snorkel pull
underwater camera
snorkel and scuba dive gear
kayak
wind glider
windsurfer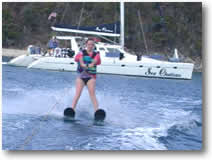 water tube
knee board
water skiis
sailing dinghy
float mats
banana pull
 It would be a lot to rent all these, but you have many options to choose from on a private yacht.
Read more below about specialty windsurf charters and the most popular water sport, snorkeling.
---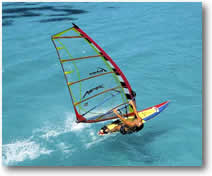 Windsurf and Sail
So you want to ride like the wind? You can do it when you charter one of these fast catamarans or sleek monohulls that offer windsurfing vacations with expert guidance. The crew are experienced with windsurfing and will take you to the most awesome spots for each days wind conditions. You will be able to sail to locations only reachable from a boat.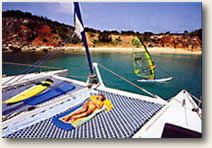 This is the way to fly on any Sea. The ultimate windsurfing vacation from a crewed sailing yacht.
Windsurfing lessons from expert instructors for beginning to advanced level is also available on some yachts. And to top it off, several also offer scuba diving from the boat. Please inquire for windsurf charter options.
---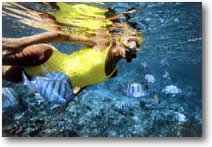 Snorkeling Adventures
The only way to see the pristine coral reefs, not visited by popular day trips, is from a private sailing or motor yacht. Your crew will take you to the most undisturbed vibrant live reefs where you can swim with the fish in solitude.
If you are eager to learn about the amazing life forms of the sea, we can recommend crew that have naturalists aboard. Some even have marine biology degrees. The knowledge they impart will take you to a new level of understanding and appreciation for the incredible species and their behaviors that make a coral reef. A snorkeling eco-friendly adventure vacation beyond compare.
If you are new to snorkeling, an experienced, patient and attentive crew member will guide you safely as you gain confidence in the water. Before you know it you will be so distracted by the underwater beauty that you will be completely relaxed. Many of the crew are also Dive Instructors and /or Dive Masters who are well trained in water safety.
At first the variety of life may be overwhelming, but as you gain more experience, and perhaps you are there already, you may want to start identifying corals, fish and other reef creatures. Your private onboard naturalist will be their to encourage your discovery. Learn to identify the fantastic underwater denizens of the Caribbean by family and species including Angel fish, Basslets, Butterfly fishes, Damsel fishes, Groupers, Hamlets, Parrot fishes, Surgeon fishes and so much more. Discover fascinating fish and coral behaviors such as hunting and feeding, courting and reproduction, coloring and camouflage, and symbiosis.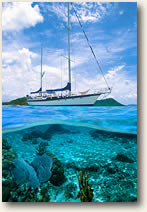 It is a thrill to be able to view the abundant coral reef life in crystal clear waters in destinations like the Caribbean, South Pacific Islands or Asia.  You are guaranteed never to forget the beautiful colors or the sea creatures that make these warm tranquil seas their home.
All our yacht charter vacations can take you snorkeling and gear is provided in a variety of sizes. Let us know what level of experience and knowledge you have and we will match you with a crew within any budget range.
The tropical marine environments through out the worlds oceans are wonderfully enriching and there is no better way to get to the most protected areas than from a private sailing vacation.  See Eco-tours for more.