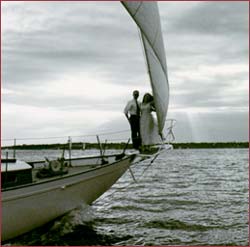 Romantic Getaway or Honeymoon Dream Yacht Charters
The romance of sailing is undeniable. There is something about the salty fresh breeze and ever changing island views and colorful sunsets on the deep blue sea that just simply stirs up those romantic yearnings.  So if you have a sweetheart and you are looking for a truly romantic getaway….a dream yacht charter may be just what you need.
A yacht charter vacation makes for an amazing and unforgettable wedding, honeymoon, anniversary or simply a romantic getaway. We have sailing packages designed especially for the romantic with large private suites and attention to the needs of couples.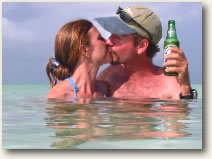 Whether you want to get married on an island, or a truly romantic honeymoon package, anniversary or a romantic vacation rendezvous, your crew will set you up with sensual sailing on a stunning yacht, picnics under palms on quiet beaches, frolics in turquoise lagoons, champagne toasts, fresh flowers in your cabin, Calypso with the locals and beautiful sunset dinners among stunning ocean settings.
All the right atmospheres for love, the rest is up to you.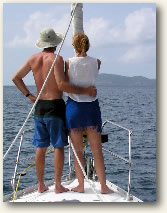 Keep in mind that these crew are there to serve you and most of the time they will be busy doing that while you will be out playing and enjoying the romance of island and sea life, so you will never feel that they are in the way, quite the contrary is the case.
The crew will set you up for romance all the way and leave you with plenty of time to play or gaze happily into each others eyes over an exquisite meal and a fine glass of wine.  You may forget the crew is there, but the exceptional service will remind you that it doesn't get better than this for the most romantic getaway of a lifetime and one to always return to in celebration of your love!
Though we do highly recommend a crewed charter, for those that find romance in sailing yourself, a bareboat charter can have its own romance too.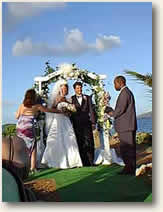 If you want to start your romantic relationship out right, do consider getting married during your charter, either on a gorgeous island or on the yacht itself.  You can either elope this way, or have family and friends join you at an island wedding location.  Your crew can help you arrange all the details.  Let us know and we can help too.  There are many stunning and romantic island dream wedding locations.
Then you can truly sail happily away into the sunset. What a romantic dream!
Browse the available crewed sailing or motor yachts for a Romantic Getaway Dream Yacht Charter with a Yacht Search.
Inquire for a romantic yacht charter that fits any budget.
"Words cannot describe the week we had. The boat was immaculate and extremely well maintained. We became close friends with our crew during the trip. The cuisine prepared was absolutely delicious, every meal. In short, we could not have asked for a better way to spend our honeymoon. We had the perfect boat, crew and cuisine to make it not only a wonderful memory, but a goal to return as often as possible."