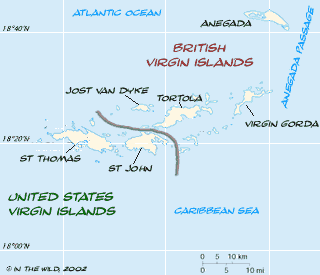 Virgin Islands VI Sailing Itinerary

Yacht Charters in the Virgin Islands Caribbean is among the best Cruise Destination and sailing holidays whether you charter bareboats or crewed boats.
Below is a sample one week US and British Virgin Islands sailing vacation itinerary. Your specific USVI and BVI yacht charter will be tailored to your interests and desires.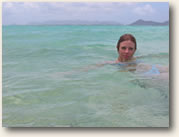 Whether you want to hide away in secluded coves, hike the island terrain, scuba dive everyday or get rowdy island style, the crew on your sailing or motor yacht will take you in beautiful Virgin Island holiday style.
You can start your VI charter from most any island, but the two with airports are St. Thomas, USVI (STT) and Tortola, BVI (EIS). See VI Info and Links for ferries, hotels and other useful travel information.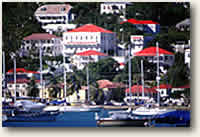 This example VI charter itinerary is with a St. Thomas departure and return.
Day 1: Board your yacht charter in St. Thomas, USVI. Enjoy a scrumptious lunch and leisure sailing to Frances Bay on St. John. Have an afternoon splash in the warm turquoise waters and nestle your toes in the white sands. Celebrate the magic of the islands with a Caribbean sunset cocktail on your private floating deck. Savor the first of many delicious dinners under the stars on your perfect Virgin Islands holiday cruise destination.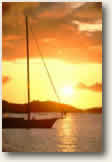 Day 2: After the most wonderfully relaxing sleep you've had in a long time, awake to the smell of a fresh baked breakfast. Revel in the amazement of where you are as you sail for Leinster Bay, St John, for a day of snorkeling and island exploring. Perhaps a hike to a historic sugar mill. Return for lunch and set sail for Jost Van Dyke to clear customs for sailing in the British Virgin Islands.
Explore Jost and visit Foxy's and other famous beach bars for some Calypso island revelry. Join a "jump up" party with other sailors and locals. Perhaps stay ashore for a West Indian pig roast.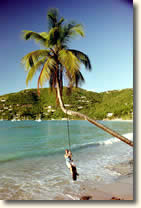 Day 3: Sail to Sandy Spit for a morning of beach combing and amazing underwater exploration in the beautiful BVI.
Stay in Cane Garden Bay for the evening or sail to West End, Tortola for lunch and a trip ashore to Pusser's Landing for a "Painkiller" and island shopping.
Catch the breeze to Cane Garden Bay, Tortola – (listen carefully to Jimmy Buffet's song Mañana, as he sings about sailing to Cane Garden Bay!). How about a swing from a palm?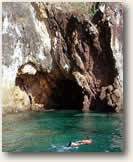 Day 4: Sail on to the Bight at Norman Island, nicknamed 'Treasure Island', as it is rumored to be the basis for the Robert Louis Stevenson novel. Watch hundreds of Sergeant Majors (striped reef fish) encircle you at the water level Caves.
A lovely dinner aboard…refreshed and ready for some after dinner wildness at the floating "Wille T" bar…famous for all kinds of crazy human behaviors you can only get away with in the islands.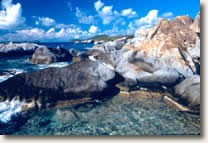 Day 5: Sail to Virgin Gorda, and frolic at the world famous geologically mysterious Baths, where house-sized boulders form fascinating pools and grottoes to explore.
Following yet another yummy lunch, sail on to North Sound, Virgin Gorda and visit the Bitter End Yacht Club for snorkeling, board sailing, water-skiing or hiking. Everyday is your day, so do what thrills you.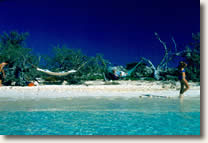 Day 6: Have a morning of water play, then sail to Peter Island, to a quiet beach on Deadman's Bay and colorful coral reef discovery at Great Harbor. Visit Peter Island Yacht Club – a very upscale place for a dinner ashore (jackets required in season ) if that's your preference.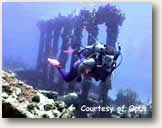 Day 7: If you are a diver you will not want to miss the coral-encrusted 1867 wreck of the British mail steamer R.M.S. Rhone. Others will enjoy more of the islands in their own way; relax on deck with a cocktail in hand, or hike a hill, as you wish.
In the afternoon, sail to Cruz Bay on St John to clear U.S. Customs. Browse the quaint boutiques or sail on to Christmas Cove on Great St James Island for one more chance at snorkeling or other watersports in the enveloping warmth of the Caribbean.
Enjoy your last evening aboard with another glorious Caribbean sunset, and memorable dinner in the beautiful warm Virgin Island breeze.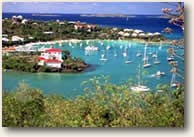 Day 8: This is when you start planning your next Virgin Island Yacht Charter. After breakfast (with a farewell Bloody Mary or Mimosa, perhaps?) and a final swim, return to St. Thomas where you may want to do some last minute duty free shopping before you catch your flight home. Don't worry, you'll be back!
Browse the available crewed sailing and motor yachts for VI Sailing Itinerary with a
Yacht Search
.
Virgin Islands Maps and Travel Information
Virgin Islands Destination Description
Other Caribbean Yacht Charter Destinations