Sailing Florida Bahamas Destinations have a way of soothing the soul and there is no better way to feel it then from a private sailing or motor yacht charter. Below are some seasonal yachting itineraries we suggest to get the most out of your Bahamas or Florida vacation. Whisk away your troubles in endless turquoise blue and the pure white sands and swaying palms of theses southern Atlantic sailing adventures.
Scroll down to view these suggested itineraries:
The Florida Keys, The Exumas, The Berry Islands and The Bahamas Out Islands.
---
Miami to the Upper Florida Keys (7 Days, 160 + nautical miles)
Day 1: Depart Miami and cross to Biscayne Bay via the Inter-coastal waterway (ICW) to Elliot Key (part of the National Park system); Explore the Elliott Key Park swimming, snorkeling, just relax or fish Sands Cut on an incoming tide.
Day 2: Spend a gorgeous day sailing south through the Cutter Bank channel to Pumpkin Key, and cross over to the ocean side of the Keys chain through Angelfish Creek. Sail south to Marina del Mar on Key Largo or anchor on the lee side of Rodriguez Key for a splendid dinner and spectacular keys sunset.
Day 3: Relax in Key Largo. For peace and tranquility dive or snorkel in the John Pennekamp Coral Reef State Park. The socialite might enjoy a dip at the pools in the Marina, and dining out at a the great Key Largo restaurant.
Day 4: Sail the Hawk Channel to Snake Creek, and cross back over to Florida Bay on the inside of the Keys chain. Follow the ICW to Cowpens Bay where you can either anchor or tie up at Islamorada Municipal Marina. There is a great new swimming pool at this marina and the flats fishing is superb on Florida Bay.
Day 5: Sail down on the inside keys and anchor in Long Key Bight or proceed further South to Duck Key where you can pull into Hawks Key resort and Marina. Here you are a hop-skip and a jump away from Marathon, in the Middle Keys for fine dining and night life.
Day 6: Take the scenic route back on the inside. You should be able to reach Pumpkin Key or even Elliott Key in one sensational day of relaxed sailing among the beautiful Florida keys.
Day 7: A leisurely stride back across Biscayne Bay, check out Stiltsville where rich Miami residents still play on long weekends, and ogle Nixon's Key Biscayne residence, spend the night at No Name Harbour and roll back into Miami the following day, well rested.
---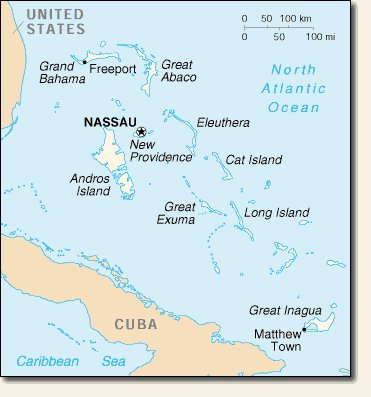 Nassau to The Exumas (8 Days, about 160 Nautical Miles)
Day 1: Depart from Nassau Harbour, pass the Porgee rock across the White and Yellow Banks for the 35 NM run to Allan Cay. Overnight between Allan's Cay and Leaf Cay. Hang out with some special island friends, the iguanas, at this well protected Iguana habitat and there are literally hundreds everywhere. A special place.
Day 2: From Allan's Cay retrace your steps to the Western side of the islands and venture South East to Norman Cay to check out the wreck of an old drug-running airplane shot down by the authorities. It sits in about 3 feet of water, have your picture taken in the cockpit!
Day 3: Sail on to Hawksbill Cay, one of the most attractive cays in the Bahamas Exuma Cays Land and Sea Park. It is uninhabited and has several beautiful beaches on the Western side. Anchor here and enjoy the nature.
Day 4: Up anchor and head for Compass Cay with its bold white cliffs and sweeping beach on the South end. There is a Marina here that is quite comfortable or anchor off Fowl Cay for a pleasant meal and sunset cocktails.
Day 5:
Head SE to Staniel Cay; where there is a Marina and Yacht Club with a well renowned bar! Pick up a mooring off the Club Thunderball where the James Bond movie, Thunderball, was filmed. The snorkeling and diving is quite spectacular here so don't miss it.
Day 6: Make your way back through the cays with fabulous sailing or motor yachting. Overnight at Highbourne Cay.
Day 7: After a wonderful breakfast, pick up speed here and head across the Banks to Porgee Rock and tuck your self into West Bottom Harbour on Rose Island for the night. It's about an hour to Nassau Harbour from here. What a week of fun it the sun!
---
 SUMMER ONLY ITINERARIES
Miami to The Bahamas Berry Islands
(Recommended for Motor yachts with speed to cover the 250 Nautical Miles in 8 Days)
Day 1: Motor east from Miami and cross the Gulf Stream to Gun Key. Overnight at Honeymoon Harbour on the North end of Gun Key or go through the cut and anchor behind Gun Key on the North East side or tie up at Cat Key Marina. OR continue East across the Banks and overnight on the Banks.
Day 2: Get up early and head East towards the North East channel Marker and move off the Banks into deeper water and head for Chub Cay, the southernmost Cay in the Berry Islands.
Day 3: Continue East past Bird Cay and then Whale Cay and Bond Cay to Little Harbour Cay. There is a good anchorage on the inside of Little Harbour Cay. This is diving, snorkeling and fishing paradise; The water is crystal clear and unbelievable.
Day 4: Sail on Northwards past Holmes Cay and Great Harbour Cay, you are actually going to spend the next overnight at Great Harbour for another wonderful Bahamas day!
Day 5: Spend the day on Great Harbour Cay, diving or snorkeling or simply relaxing in the blueness of it all.
Day 6: Move on from Great Harbour and enjoy the breeze in your hair as you sail to Bimini.
Day 7: Spend the day in Bimini taking in all of Hemingway's old haunts, go Bill-fishing with the pros, check out the Complete Angler when you get back or do virtually nothing. It's up to you.
Day 8: Return to Miami.
---
The Bahamas Out-Islands from San Salvador to Crooked Island
(Fly into Georgetown, Bahamas – Long sail, lots of Blue Water, hold on to your hat)
In the tracks of Columbus

Day 1: Ride the wind from Georgetown early and head East towards the tip of Cape Sta. Maria and past Conception Island until you reach San Salvador. Anchor off Cockburn Town, on the lee side of the island or make it to the marina.
Day 2: Spend the day on San Salvador and check out all the important Columbian stops such as the white cross that marks Columbus' landing place and the impressive monument on the other side of the island. The sheer historical significance is awesome.
Day 3: Make an early departure South West to Rum Cay, originally named Santa Maria de la Concepcion by Columbus his second stop in the "Indies". Behold the reefs below as you enter the shallows at Sumner Point Marina or simply anchor out behind the reef, go ashore in the dinghy and have a few beers at Toby's Bar or Kay's. There is some excellent diving on the wreck of the HMS Conqueror and about 60 local Bahamians to chat with.
Day 4: Sail on to Clarencetown on Long Island, named Fernandina by Columbus although he by passed this harbour on his way down, it's definitely worth a visit. Go ashore for some flats fly fishing or rent a small car or moped and visit Cape Santa Maria and Calabash Bay where Columbus originally anchored. There are two magnificent old churches in Clarencetown, these are St. Paul's Anglican Church and St. Peter's Catholic Church, both designed by Father Jerome an architect and religious figure well known and respected in the Bahamas.
Day 5: Leave early and head East to Bird Rock on Crooked Island. (Columbus named this island Isabela, after the Queen of Spain). Head South down the lee shore of Crooked Island to French Wells where the Admiral anchored, traded and ate a few "Hutias" the original rodent-like fauna of the Bahamas. Anchor in the lee of Gun Point and if you're a fisherman, DO go after the fattest bone fish and the meanest Tarpon.
Day 6: Up at sunrise, head North back towards Long island and Cape Sta. Maria and sail around the Cape and anchor in Calabash Bay. This was Columbus' third stop after San Salvador and Rum Key. Relax on your last day before heading back to George town.
Day 7: Head due West to Georgetown. What a historical adventure.
Browse the available crewed sailing and motor yachts to charter for Sailing Florida Bahamas areas with a Yacht Search.
Speak to a charter broker 888-730-SAIL (7245)