Q: What type of yacht should we charter (motor yacht, catamaran or monohull sailing)?
Motor Yacht:
Pros: Get to destination quickly (cruising speeds vary depending on power of engines). No dependency on wind speed and direction in choice of destinations. Usually spacious and very comfortable. AC is always offered. Often have space for multiple water toys, and larger yachts can have wave runners and larger tenders including fishing boats. Many have jacuzzis and other extra luxurious amenities. Choose from wide variety of types and sizes. Mega super yachts to modest power boats.
Cons: Usually more costly than sail boats. Usually are plus expenses (fuel and provisions, etc. at 30% of charter fee paid in advance). Must use AC inside as they are generally not ventilated with opening hatches. Can experience diesel engine exhaust fumes and engine noise. Least environmentally friendly option as they use a lot of fuel.
Sailing Yacht: Pros: Environmentally more friendly than motor yachts as use very little fuel, and none, if the wind is blowing. AC is not necessary on most, as there are ventilation hatches for fresh air. Quiet. No diesel fumes. Rates run from quite affordable to extravagant with wide choice of luxury. Many variations on styles and amenities. Cons: Sailing itinerary can be affected by wind direction. Can motor when there is no wind, but it is usually not as fast as motor yachts, so passages may be more leisurely. Accommodations can be tight on some sailing yachts.
Compare Types of Sailing Charters: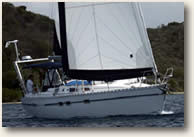 Monohull Sailing Yacht: (traditional sailing vessels with one hull)
Pros: Great sailing vessels that generally sail well to windward. Fun to sail and feel the wind. Less costly in general relative to length and make. Many variations on styles and amenities. Choose from homey comfortable cruising yachts to slick racer sailing machines. Ask your broker for more information on how models and sail configurations affect performance and comforts.
Cons: May heel to one side while underway depending on wind and yacht beam (width and weight). This is great for sailing lovers, but may be less comfortable for those not as familiar or in unprotected areas. Less space relative to the length of the yacht. Some deep draft (hull depth under water) models limit how shallow can sail or anchor.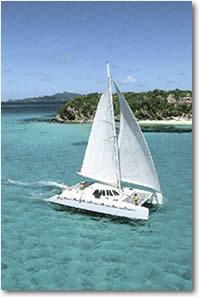 Catamaran or Trimaran Sailing Yacht: (two or three hulls)
Pros: Generally fast sailing vessels. Stable on the sea; don't heel over, instead remain flat on the water. Many variations on styles and amenities. Very spacious relative to length because of the extra hulls and platform between, often with more cabins to accommodate larger groups and lots of wide deck space. Smaller draft for shallower sailing and anchoring.
Cons: Some say they do not sail as well to windward. More costly, in general, relative to length and make. May be more cumbersome for docking in a tight marina.
You can do a Yacht Charter Search in our data base for lists of the different types of charter yachts