Here is your complete Yacht Charter Vacations Guide. It is our pleasure to assist you in any way we can to make your yacht charter vacation  and sailing adventure the very best ever!  Please email us or call 888-730-7245 with any questions unanswered below.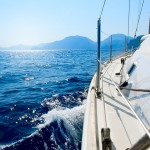 Click on the FAQs (frequently asked questions) below. Or scroll down the page for the answers:
Q: Why take a yacht charter vacation?  Q: What is a Crewed, Captain Only, By The Cabin and Bareboat Charter? Q: What type of yacht should we charter (catamaran, monohull, motor yacht)?  Q: How do we choose the best crewed charter for us? Q: Why charter a yacht vacation with In The Wild?  Q: How do yacht charters compare to other vacations?  Q: How much do these trips cost?  Q: What is not included in a crewed charter?   Q: What kind of activities are there to do?  Q: What will the food and drinks be like?  Q: Can I bring children? Pets?   Q: Where can we go?   Q: What should we bring? Q: What charter etiquette should I be aware of?  Q: What will the weather be like?  Q: What do others say about their charter experiences?  Q: What about sea sickness?   Q: How do I book a trip?  Q: Do we need Travel Insurance?  Q: Do I need a passport?  Q: How can I learn to sail?
---
Q: Why take a yacht charter vacation?
A: Simply because its the greatest vacation on Earth and on the water!  There is no better way to enjoy the worlds coasts and islands, than by hopping along from a private yacht. You can adventure travel to places that only boats can go, but in comfort, style and even luxury if you please.  Imagine waking up on a private yacht in a different secluded cove each day of your vacation.  Imagine deciding whether your day's activity should include a swim, snorkel or scuba dive in aquarium like conditions, some other watersport such as kayaking or water-skiing, a beach stroll or cross island hike, a sail to another beautiful island, or just relaxing on deck in a hammock.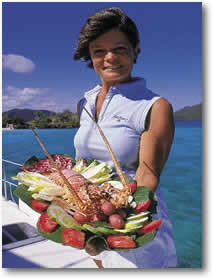 If you choose a crewed charter, you're even more at ease because you have a crew who, in addition to being your personal tour guides, are looking after the boat, the food and the cleaning. You're on a floating resort where the scenery always changes, the food is prepared as you like it and you never run out of things to do.  When it comes time to sail to your next destination you can participate as little or as much in the sailing of the vessel as you would like. The crew will be happy to teach you about the art of sailing, navigating and boat handling. Or perhaps you've chosen a power yacht and you let your mind melt away as you watch the islands pass your field of view.
When you arrive at your next little spot in paradise you may choose again from a host of water sports, or maybe a delicious dinner on deck followed by a quiet night of stargazing or relaxing to music, or you can go ashore to watch the sunset from atop a hill, have dinner in a small local restaurant and do some dancing at a beach front bar.
No sailing experience is necessary for a crewed yacht charter.  Your captain and crew will take care of you and all the responsibilities for the yacht. You can plan your itinerary with the captain to meet your desires and can get involved in sailing as little or as much as you like. This is your dream holiday! If you are an experienced sailor and have a group that you trust to crew with you, you may enjoy chartering a bareboat and charting your own course each day.  Either way, crewed or bare boat rental, chartering a yacht is the way to go!
Back to Top Yacht Charter Vacations Guide
---
Q: What is the difference between a Crewed, Captain Only, Cabin Cruise, and Bareboat?
A: You have several options on Yacht Charter Vacations. The descriptions below may help you decide what is best for you. But feel free to call or email us to discuss these ideas.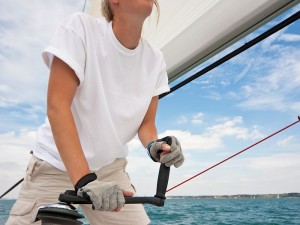 Crewed Charter: These are private charters with at least two crew members to serve you. There is a captain and chef/mate generally on yachts under 75 feet and more crew on larger sailing and motor yachts. These charters are full service and treat you very well, but also offer you privacy and most of the time you will only see them when you want to.  You don't have to worry about a thing.
You design the itinerary with the crew and have a lot of say about where you will go within a given cruising area.  On sailing yachts running expenses, all meals and drinks are either included or purchased with an advance, and provisions are chosen according to your liking.  Many motor yachts and Mediterranean charters charge around 25% more upfront for expenses.
Private crewed yachts are impeccably maintained and have lots of extra amenities and toys included.  There is a vast variety of types of crewed charter yachts, because they are privately owned. You can do a crewed yacht search for examples.  See also Why Crewed Charters for further details.
Captain Only Charter: This is a private yacht charter with a captain and sometimes a mate.  No chef is provided, so guests do the cooking. Running expenses and all provisions are paid by guests.  These are usually owner operated vessels that are well cared for and can include many of the toys provided on all inclusive crewed charters. In fact, many crewed charters offer a less costly captain only rate.  This is a great option if you enjoy  cooking or eating at local restaurants.  It can also be a great way to try the sailing lifestyle with a captain who knows the cruising area.  Some charters offer something in between or a Half-board option, where some meals are provided and others you handle yourself.  A private captain only charter can be an affordable option for many.  You will find more variety and often higher quality yachts than a bareboat rental.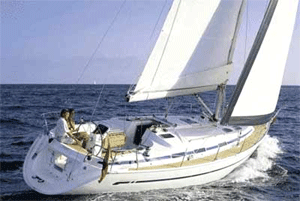 Bareboat Charter:  Just like it sounds….you are renting a bare boat.  The boats are generally factory manufactured boats.  All toys are extra and so are all the running expenses and provisions.  You will be renting from a company that owns a fleet of bareboat charter yachts, though many are privately owned and rented through the company to help them pay for having the boat. You can charter a sail boat or a motor boat this way. This is for those that know how to operate a boat and like do-it-yourself adventure travel. You can also rent a bareboat and hire a professional captain.  See Bareboat Charters for more details.
If you want to captain the boat yourself, you must show the bareboat company your qualifications. This is much akin to renting a car, for which you need a drivers license to show that you can handle the vehicle, but you don't need a captains license to charter a bareboat.  A resume showing you have experience on a similar size and type of boat will suffice.  However, you can get sailing certifications, including Bareboat Certification to add to the resume.  Some bareboat companies offer sailing instructors for your charter. See Learn Sailing options for ASA sailing certification courses.
Or you can hire a captain to run the bare boat, usually for around $125/ day and sometimes you can even hire a chef.  Keep in mind that each will need their own cabin, so you need to rent a bareboat that can accommodate them and your group.
By the Cabin: This is a usually a crewed all inclusive charter on which you book a cabin next to other singles or couples who book cabins as well. In other words, you are sharing a crewed charter experience with people you will get to know during the week. There is limited availability for this type of charter and so you must be flexible with your travel dates.  See Cabin Cruise Charters for more detailed information.
---
Q: What type of yacht should we charter (motor yacht, catamaran or monohull sailing)?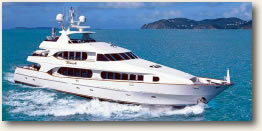 Motor Yacht:
Pros: Get to destination quickly (cruising speeds vary depending on power of engines). No dependency on wind speed and direction in choice of destinations. Usually spacious and very comfortable.  AC is always offered. Often have space for multiple water toys, and larger yachts can have wave runners and larger tenders including fishing boats. Many have jacuzzis and other extra luxurious amenities. Choose from wide variety of types and sizes.  Mega super yachts to modest power boats.
Cons: Usually more costly than sail boats. Usually are plus expenses (fuel and provisions, etc. at 30% of charter fee paid in advance). Must use AC inside as they are generally not ventilated with opening hatches.  Can experience diesel engine exhaust fumes and engine noise. Least environmentally friendly option as they use a lot of fuel.
Sailing Yacht:  Pros: Environmentally more friendly than motor yachts as use very little fuel, and none, if the wind is blowing. AC is not necessary on most, as there are ventilation hatches for fresh air. Quiet. No diesel fumes. Rates run from quite affordable to extravagant with wide choice of luxury. Many variations on styles and amenities. Cons: Sailing itinerary can be affected by wind direction. Can motor when there is no wind, but it is usually not as fast as motor yachts, so passages may be more leisurely.  Accommodations can be tight on some sailing yachts.
Compare Types of Sailing Charters: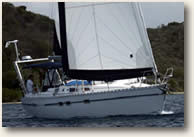 Monohull Sailing Yacht: (traditional sailing vessels with one hull)
Pros: Great sailing vessels that generally sail well to windward.  Fun to sail and feel the wind. Less costly in general relative to length and make.  Many variations on styles and amenities. Choose from homey comfortable cruising yachts to slick racer sailing machines. Ask your broker for more information on how models and sail configurations affect performance and comforts.
Cons: May heel to one side while underway depending on wind and yacht beam (width and weight). This is great for sailing lovers, but may be less comfortable for those not as familiar or in unprotected areas.  Less space relative to the length of the yacht.  Some deep draft (hull depth under water) models limit how shallow can sail or anchor.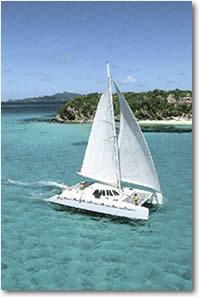 Catamaran or Trimaran Sailing Yacht: (two or three hulls)
Pros: Generally fast sailing vessels. Stable on the sea; don't heel over, instead remain flat on the water.  Many variations on styles and amenities. Very spacious relative to length because of the extra hulls and platform between, often with more cabins to accommodate larger groups and lots of wide deck space.  Smaller draft for shallower sailing and anchoring.
Cons: Some say they do not sail as well to windward.  More costly, in general, relative to length and make.  May be more cumbersome for docking in a tight marina.
You can do a Yacht Charter Search in our data base for lists of the different types of charter yachts
---
Q: How do we choose the best crewed charter for us?
A: Firstly, read the two previous Q and A's on type of charter and type of yacht. When you have narrowed down those options then consider your budget and the activities that are most important to you.  You can do a yacht search to see brochures of options in your chosen charter destination.  However, we recommend you contact us directly so we can narrow your search to the best option for your desires.  Check the yacht brochures' specifications pages to make sure the yacht has the amenities that are of interest and then consider the crew. In general, the more a yacht has and the more attentive the service, the higher the weekly rate relative to the type and size of yacht, of course.
     Yacht Specifications to consider: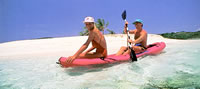 Water Toys ~ (tube, water skis, wake board, etc.) These pull toys require a dinghy with at least 25hp or better 40hp to pull adults. Read specs for other listed toys. SCUBA Diving ~ some yachts offer diving directly from the yacht (some include this in price while others charge a minimal fee). All other yachts arrange Rendezvous diving with a Pro Dive boat at guest's expense.  Some yachts also offer SCUBA courses onboard.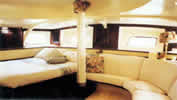 Amenities ~ check cabin configurations, number of heads (bathrooms), deck space for lounging, outdoor dining space for size of your group, head room if you are tall, berth size and storage, types of toilets; manual vs. electric (the latter is easier, but former is not such a big deal either), water maker (allows more liberal use of water, as it is produced on board through reverse osmosis), deck shower (nice to wash of salt water), ease of access to water (ladder, swim platform), Wet vs. Dry shower (Dry is a separate shower area from toilet and sink. Wet means the shower is nozzle from sink). AC off dock, electronics (TV, ipod docking, wifi internet, whatever you think you need).  Quality and quantity of amenities can be reflected in the price.
Crew ~ The importance of the crew should never be underestimated. Firstly, read the crew profile and cook/chef's menu to see if all sounds good to you. Our brokers will help considerably in this department, as they interview the crews every year. They can match you with a crew depending on what your style is. Considerations might be, family friendly, gay friendly, high end silver service, casual family style, water sports enthusiasts, sailing instruction, party crowd, active or mellow, and any number of other backgrounds or specialties. Please ask
---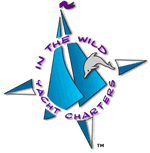 Q: Why charter a yacht vacation with In The Wild?
A: We offer a FREE service that makes chartering a yacht easy, fulfilling and secure for you. We have close to two decades of experience in the yacht charter business and have many happy clients.
Crewed: In the Wild offers sailing and motor yacht charters designed especially for you. We go out of our way to find what is truly unique and outstanding about each yacht and its crew. Whether you crave an enriching learning experience, a water sports adventure, or ultra luxury and relaxation with lots of TLC, we will find the charter for you. We have created many specialty charters based on what the crew love to do most, or have categorized charters according to their strengths. So not only are you getting quality cuisine, service and accommodations, but a crew that matches your interests.
Bareboats: If you are looking to bareboat charter, we have done all the research on the best fleets and will check all availability for you so that you don' t have to go through all the trouble. We can also provide you with a comparison of what each bareboat company offers.
Also consider:
We visit the yachts and crews every year, sometimes more, to stay up to date with the condition of the yacht and what's new with the crew (if applicable).
We are aware of each yacht and crew's specialties and match you with your dream.
We have no "in house yacht fleet" to be biased towards. We can direct you to the best yachts in the entire world. Search our database of available yachts for the variety of offerings.
We keep your deposit secure in an escrow account until just before your charter in case of unforeseen cancellations.
We are always looking out for our client's interest so you have an extra layer of security.
We are members of several Yacht Brokers Associations and Charter Yacht League s insuring even more support from the charter industry as a whole.
We stay up to date with any charter discounts being offered by yachts. Many are listed on our site, or ask a broker for Specials.
Most importantly, we love what we do and are thrilled to share the adventure of yachting around the world.
Back to Top Yacht Charter Vacations Guide
---
Q: How do yacht charters compare to other vacations?
A: Resorts, hotels, villas and cruise ships can't offer you the variety and flexibility your own personal yacht charter can. We will show you beaches and views that you can not see from the shore, and sometimes can't even get to without a boat!  Yacht charters can even take you to places the resort staffs don't know about.
A cruise ship experience is completely unlike a charter yacht vacation. On a charter yacht you will not be forced to listen to reggae elevator music or have to deal with crowds everywhere you go, like on a cruise ship when you are traveling with thousands of other people! You're supposed to be going on vacation, remember? Do you really want to go with 2000 others all lined up to get on and off?
Also, remember, that on a yacht charter your meals and drinks are included and prepared to your group's desires by a private chef. On a cruise ship, your food is included but they make up for that by charging an arm and a leg for every drink you consume.  You will also pay for shore excursions, if you have enough time to enjoy them, after standing in line to get off the boat. You would pay for sailing, kayaking, water-skiing, snorkeling, diving, etc. These activities can add up. On a private yacht charter, all, or most of these activities, and more are included in the rate, and you have plenty of time to partake in them, at your leisure.
Before you arrive on a charter, you will be asked what you like to eat, or would like to try. Once on board you will talk to the crew about what you want to do and where you want to go. Each charter is totally customized to you, and can change your mind in midstream if you want! Try asking the captain of a mega-cruise ship to visit that pretty little island over there that isn't on their itinerary!  Firstly, he probably couldn't go there even if he wanted to oblige, as cruise ships can only dock at major ports. With your own charter yacht, the captain's next words are likely to be, "Sure, let's go!"
If you are doing a hotel land holiday, than you would have to charter a day boat to go to one island for the day.  How do you choose? And it will cost you.
Click here to see a chart comparing these different vacations and more.
Back to Top Yacht Charter Vacations Guide
---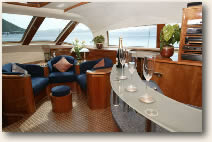 Q: How much do these yacht charter trips cost?
A: Prices vary depending on time of year, type and size of yacht, bareboat or crewed, and number of people you bring. You might be surprised to know that all inclusive week long Caribbean Crewed Charters can start at under $2000 per person for a couple, and even less per person when the size of the group goes up.  All inclusive means you get a private yacht, captain and chef (with additional crew members if necessary), all food (including 3 meals/day plus snacks) and all drinks (including bottled water, juices, sodas, beer, wine and liquor). You also have access to several water toys (varies per yacht) to enjoy when you please at no extra expense. Or you can charter Captain Only and pay less a private yacht and incur the running expenses.  Bareboats will cost less, as low as $2500/yacht/week plus all expenses, but you must be confident operating one or pay a daily rate for a captain.
You may also find some great deals on By The Cabin Charters. In that case you would charter a cabin on a yacht that would be shared with other charter guests.  For single travelers this may be your way to go.  For couples, it is only slightly less than chartering a private crewed yacht.
Power yachts usually cost more than sailing yachts (because of the cost of fuel) and the latter are not always all inclusive. Prices for each of our trips are clearly stated on our web site and are often less during off season months and 10% more during Christmas and New Years.
The listed prices do not include a gratuity for the crew if you were pleased with the service throughout the vacation. Remember, crew serve as your captain, chef, maid, bartender, water taxi driver, tour guide and in many cases instructor and are on duty 24/7. Customarily 10-20% of the gross cost of the trip would be handed to the crew in an envelope at the conclusion of the charter in cash or traveler's checks. By the end of the charter there's a strong chance that you will have become very good friends with your crew.
Remember, In The Wild is paid by the yacht, not by you. If you could book directly with the yacht you would pay the exact same amount. Our services will help insure that you find the right yacht at the right price with the right activities and the bonus of a secure deposit.  Not to mention, there are actually very few crewed charters that you can book directly and the quality and bias may be questionable.
Back to Top Yacht Charter Vacations Guide
---
Q: What is not included in a crewed yacht charter?
A: The level of service and luxury varies per charter, but here is a guideline of what is generally NOT INCLUDED:
| | | |
| --- | --- | --- |
| All Charters | Most Charters | Some Charters |
| Air fare | Scuba Diving | Cruising taxes and fees |
| Crew gratuity of 10-20% depending on your satisfaction with the service. | Special request fine wines and alcohol brands. | Fuel and provisions (many large motor yachts and Captain Only and most Mediterranean yachts. |
| Dockage at guest's request |  satellite or cell phone communications | Bareboat Charters are plus all expenses. |
| Shore side expenses | | |
Please ask us if you are unsure of any extra charges. See Charter Types for more details.
---
Q: What kind of activities are there to do?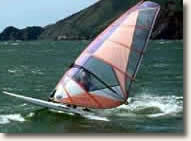 A: All private charter yachts have water sports. The types of sports will vary depending on equipment. These might include snorkeling, scuba diving, kneeboarding, water-skiing, windsurfing, kayaking, fishing and of course, sailing.    See more information on our Watersports Specialty Charter page.
Most water sports are included but sometimes are extra, or are arranged with outside service providers. On shore activities can be recommended by your crew and will vary depending on the island. When you choose a specialty In the Wild charter the crew will have activities planned that relate to the topic of your individualized vacation.
Or course you can always shop at local boutiques, party at famous beach bars, beach comb, and lounge around drinking frilly cocktails, too!
Back to Top Yacht Charter Vacations Guide
---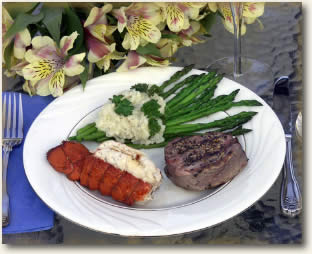 Q: What will the food and drinks be like?
A: The menus on crewed yachts are designed around your food preferences. The chefs are excellent and can usually prepare any dish requested but your best bet is to let them do what they do best, and sit back and enjoy the magic. It is generally recognized that the best chefs in most locations are crew on yachts. Keep in mind that they have only your group to please, not a restaurant full of people. They can take their time to do lots of extras and give you lots of attention.
Alcoholic beverages, such as wine, beer and cocktails, from the yacht's standard bar, are included in the cost of the trip for most Caribbean destinations and yachts, except in the case of excessive consumption for which you may be charged a bit more.  The variety will vary depending on the cost of the charter with larger, more expensive yachts providing finer wines and premium liquors.  Most yachts can also stock specific brands of fine liquor and vintage wines at your expense. In destinations outside the Caribbean, like the Mediterranean, the provisions are extra and you pay an advance for whatever you prefer.
Special Diets – Most crew will do everything to accommodate your personal dietary requirements. Many can do vegetarian menus that will delight everyone, not just the vegetarians! Kosher is available on some boats, though often in 'modified' form due to the constraints of a yacht's galley. The most important thing is to get in touch with the yacht as soon as possible and communicate your special needs early. With enough warning, most things are possible even in the islands!  You will fill out a preferences form in advance so the crew can prepare.
Back to Top Yacht Charter Vacations Guide
---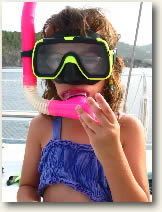 Q: Can I bring children? Pets?
A: Many charter yachts are very children friendly and offer safe and fun activities for all ages.  In fact, once you do a family yacht charter vacation, you may want to do it again and again. You will find it quite accommodating, as all family members can be doing different activities from the same spot.  It is stress free fun for all!     If you want to have children along, your In the Wild broker will find the right family friendly yacht and crew and some family vacation packages too.  Read more about Family Charters.
Pets are typically not allowed on charter yachts for many reasons including cleanliness, potential for motion sickness and possible quarantine issues in bringing pets into foreign countries and islands, but there are some exceptions, so inquire.  Some crewed yachts have a pet onboard that can be a nice friendly surrogate pet while on vacation.
---
Q: Where should we charter?
A: Their are very specific cruising areas that are most popular for yacht charters and with good reason.  Much has to do with sea and wind conditions, ease of sailing between islands or coastal areas that are sheltered from high seas, appealing anchorages or dockage, and all the other cultural and environmental factors that make for a dream vacation.
Choosing a destination depends on what your dream charter looks like and also the time of year you wish to travel.   See our Sailing Destinations page for list of the charter areas around the world and details on each.  If you are still unsure, be sure to ask an In The Wild charter broker for recommendations.
Back to Top Yacht Charter Vacations Guide
---
A: First, it is suggested that you bring soft sided luggage, such as a duffle bag, since space is limited and storage is easier, especially on a sailboat.  Also hard luggage can damage woodwork and paint.
For clothing, check your destination weather patterns for the season you are traveling. In the Caribbean and warm climates in general, bring casual wear, mostly shorts and T-shirts, and swimsuits.  A few of the more formal restaurants require long pants and collared shirts and occasionally a jacket for men and maybe a nice sun dress for women, but "smart casual" is the norm.  You may need some long pants, long sleeves and jackets in cooler climates.  Inquire if you are unsure.
Bring sunglasses, polarized are especially recommended on the water. Flip flops or other casual beach shoes are fine for most of the time.  If you plan to hike the trails you may want to bring some closed toed shoes, depending on how serious you plan to get about your walks. Most of the time you will be barefoot on the yacht as shoes can scuff the decks.
You can bring your own mask and snorkel if you're inclined, but private yachts carry an assortment of sizes. If you are expecting to scuba dive, check with your broker to make sure of the available equipment on board the yacht or check the yacht brochure specifications page.  On a bareboat, all gear and toys can be rented nearby.
Most crewed yachts carry sunscreen of the type they prefer, so generally it is on board.  If you bring your own, please don't use oily lotions as it stains the yachts upholstery and can make the decks and hand holds slippery. Private yacht charters provide high quality linens and cozy towels.  On a bareboat, you are provided with a basic linen kit that may cost extra.
Back to Top Yacht Charter Vacations Guide
---
Q: What charter etiquette should I be aware of?
A: On a crewed charter you will feel spoiled rotten as the crew will aim to please you. But they would truly appreciate if you follow these basic guidelines.  Many of these also apply when you charter a bare boat, or if you are joining as bareboat crew.
Ask permission before boarding the yacht.
Take shoes off when boarding.
Use Oil and Paba free suntan lotions as they can stain teak and fiberglass.
Leave sand and salt water (when possible) off the boat. Most yachts have an outdoor shower.
Use fresh water conservatively (if there is no water maker).
Conserve electricity when the generator is not running.  Many yachts are equipped with solar and wind power, a bonus.
Follow the head (toilet) instructions precisely. Ask if in doubt.
Stay out of the galley unless invited (most private charters have snack areas for in between meals).
Listen carefully to safety rules.
Bring soft luggage for easy storage.
Realize the captain has the last word.
Back to Top Yacht Charter Vacations Guide
---
Q: What will the weather be like?
A: For example, the extremely consistent weather conditions in the Virgin Islands are one of the reasons this area is considered to be one of the best cruising grounds in the world!
| | | | | | | | | | | | | |
| --- | --- | --- | --- | --- | --- | --- | --- | --- | --- | --- | --- | --- |
| | Jan | Feb | Mar | Apr | May | Jun | Jul | Aug | Sep | Oct | Nov | Dec |
| Avg. temp | 77 | 77 | 78 | 78 | 80 | 82 | 83 | 83 | 83 | 82 | 81 | 79 |
The trade winds are nearly constant ranging from 10-25 knots, allowing for wonderful sailing and comfortable breezes. The water temperature ranges from 76 to 85. Please note that August through October is hurricane season, during which many of our yachts charter 'down island' or in the Grenadines where the risk of hurricanes is much lower.
For details on other cruising destination weather, please click on the appropriate destination page, check with a weather website, or inquire with your In The Wild yacht charter broker.
Back to Top Yacht Charter Vacations Guide
---
Q: What do others have to say about their charter experiences?
A: We have hundred of reviews to share with you. If you want to know about a particular yacht, please ask for reviews. Also, many of the online brochures offer guest comments. But, here is a sampling:
What a wonderful trip. The food was fantastic and I enjoyed learning about sailing and the islands. A beautiful ship, great company and Fabulous food. I will definitely recommend you to anyone coming to the BVI  –Michael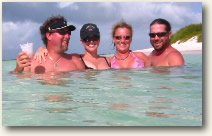 Just a quick thank you to let you know we had a wonderful time! It was the perfect blend of cool stuff and relaxation. The best parts? Diving the Indians, kicking back at Marina Cay, partying at the Willie T, Rich's Steak au Poivre, and seeing dolphins. We're already looking forward to next year's trip!  – Peggy & Dave
Thanks for one of the most memorable vacations we've ever had in our young lives. This one will be hard to top. The sailing, snorkeling, sightseeing, exploring and companionship were unforgettable. The food and cocktails were wonderful. Thanks for everything! –Gus & Marybeth
Our experiences will be lifelong memories and we expect to revisit those memories with a return visit in the next couple of years. Thanks for an impeccable vacation.  –The Hagedorns
The crews snorkeling recommendations were exceptional and provided much joy to the group. The anchorage spots were well thought out and memorable. We traveled with children and were amazed at the attention they received from the crew and the available options for their entertainment. Additionally, various activities were offered simultaneously to suit everyone's taste. The days were as active as we desired, and fun was had by all.  –Daniel and Lynne
We have many more references available upon request.
Back to Top Yacht Charter Vacations Guide
---
Q: What about sea sickness?
It is uncommon for guests to suffer from sea sickness, because the island chains of the most popular cruising areas offer protection from the open ocean.  Hence, they get ideal sailing winds without rough seas and there are many calm coves for anchoring.  However, if you are particularly susceptible to motion sickness, you may want to consider bringing an over the counter medication or pressure point wrist bands – but you likely won't need anything past the first day, and we recommend you let your body adjust naturally.  You will most likely be having way too much fun to be thinking of sickness.
Note:  It is very rare (only upon request in adventurous areas) for charter itineraries to include over night sailing.   You will be anchored in a cozy protected cove by dinner and will sleep like a baby and will maybe feel gently rocked to sleep at the most.
Back to Top Yacht Charter Vacations Guide
---
Q: How do I book a trip?
A: Firstly, browse the many possible charter destinations and itinerary options. Once you have that narrowed down (ask a broker if in doubt), browse the yacht selections available in that area (the list online may not be complete, but will give you an idea), and then consult with one of our brokers for availability and expert advise.  If you fill out our Info Request Form it helps us considerably, to find you the best charter option for your desires.
Also keep in mind that many yachts are often booked many months in advance. As such, if you are interested in a particular yacht and have an idea of when you want to charter, you should contact us early in the decision making process so we can help find the best charter for you, check on yacht availability, and let you know about any special deals.
Once you have found the dream yacht vacation, we will place a hold. See details of the booking process below:
BOOKING PROCEDURES
1. Choose an In The Wild Yacht Charter ~ If you want something that's not listed, call or email and we will find the right vacation for you.
2. Check Availability ~ Once you've chosen a vacation or some options, contact us to confirm availability for your desired dates of travel.
3. Working Hold ~ If the dates work for you and the yacht, we will put a working hold on the charter for your preferred dates. You then have two weeks (for crewed yachts and as little as 48 hours for bareboats) in which to send your deposit to officially reserve the charter.  However, another charter party can challenge you (on crewed charters) for these dates, which would give you only 48 hours to secure your reservation with a deposit or lose the first option on those dates.
4. Deposit ~ If you make your selection more than six months in advance, we will need a 25% deposit, with another 25% due at the six month mark. If you book within six months of the charter start, we will need 50% of the charter fee to confirm your reservation.  If you are booking within 90 days of your charter departure, the full payment is required. We generally accept credit cards with a processing fee, PayPal e-check payment, bank wire transfer, personal check or certified check.
5. Charter Agreement and Preferences Form ~ We will email you the appropriate Yacht Charter Agreement to sign and Preferences Form to fill in for crewed charters. For a bareboat rental we will email you the required resume form and other charter documents. Send or fax those back to us as soon as possible.
6. Completed Charter Agreement ~ The charter documents are forwarded to the yacht captain or bareboat company. We make sure that you receive a signed copy and any other information you need.
7. Charter Confirmation ~ When your deposit clears the bank you will receive a Confirmation number by e-mail.  At this time your charter is officially reserved.
8. Final Payment ~ Most crewed and bareboat yachts require final payment to be made 60 days prior by any of the methods described above.
9. Charter Contact ~ Prior to your vacation, the crew of your chosen yacht will contact you to discuss your meal and activities preferences, and itinerary. If you are renting a bareboat we will supply you with the bareboat company contact information for any last minute arrangements.
10. Sail Away ~ You are all set to meet your yacht and sail away into the sunset! Have fun!
When you book your yacht, you may want to make flight arrangements, and hotel reservations if you intend to arrive early or stay after your charter.  We have put together some  Travelers Information and Links under certain destinations.
Back to Top Yacht Charter Vacations Guide
---
Q: Do we need Travel Insurance?
We do recommend that you purchase trip insurance in case of unexpected delays, cancellations or unforeseen events, but it is not absolutely necessary. We recommend: Global Care, Access America or Travel Guard. Or compare policies here QuoteWright. If you choose not to purchase trip insurance we may ask you to indicate this on your charter yacht agreement. Cancellation insurance is highly recommended and may be required during hurricane seasons in the Caribbean.
---
Q: Do I need a passport? 
You may need a passport to travel to your charter destination. If you are a U.S. or Canadian citizen you can travel to the US Virgin Islands with a photo I.D. and can take a boat to the British Virgin Islands, BVI with the addition of an original birth certificate (not a copy).  Check with customs, however, as this is due to change. Now, if you are flying to the British Virgin Islands you will need a passport. Rules depend on your country of origin and destination.  Visitors from some countries may need Visas. Check with immigration at your particular destination well before you travel.
Q: How can I learn to sail? 
You can take sailing courses on private owner operated fully crewed all inclusive charters or you can rent a with a hired sailing instructor. Click on the highlighted link above to learn more about these learn to sail options.
Still have questions, please Contact Us.
Back to Top Yacht Charter Vacations Guide
Speak to a charter broker 888-730-SAIL (7245)