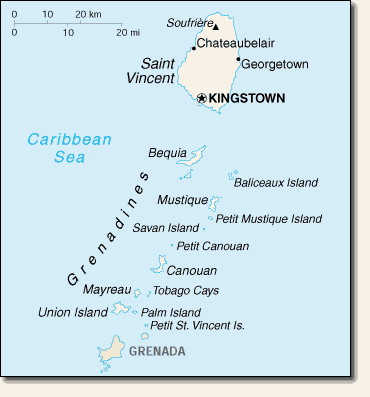 Grenadines Yacht Charter Sailing Itinerary
The gems of Saint Vincent and the Grenadines, among the Windward Islands of the Eastern Caribbean, are often referred to as "The Spice Islands" for the preponderance of spices found here. The mountainous geology of this island chain between St. Vincent and Grenada has captivating natural beauty with lush tropical forests and cascading waterfalls. The area is still undeveloped and culturally rich.
Many feel that the best time to sail the Grenadines is after the Christmas winds subside, from February on into the summer months when it is less windy and the swells mellow.
This is not as protected a cruising ground as the popular Virgin Islands. On a Grenadines Yacht Charter Sailing Itinerary you may experience a stronger current for snorkeling or swimming, but the wild majesty is unsurpassed.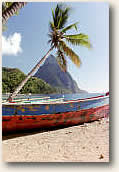 We recommend flying into St. Vincent and out of either Union Island or Grenada to get the most of sailing the islands, but you can also return to St. Vincent and still have a wonderful week yacht vacation in the Grenadines.
Below is a Sample sailing Itinerary, but remember, your captain or bareboat company will design a schedule with you that matches your Down Island sailing dreams. We also recommend that you plan to sail for 10 days instead of a week. You won't regret it.
Sample Grenadines Yacht Charter Sailing Itinerary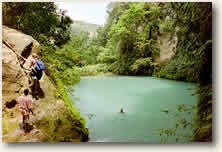 You may want to arrive at least a day before your charter to enjoy St. Vincent's rugged mountainous terrain, rain forest and many uninhabited beaches and inlets. The rich fertile volcanic soil of this island provides enough fruit and vegetables to make its inhabitants self-sufficient. The Soufriere volcano to the north of the island is itself a wonderful attraction for the adventurous.
The most beautiful beaches in St. Vincent lie along the south coast. Here, only a few minutes drive from the airport, amid sleepy inlets, you'll find the beautiful Blue Lagoon, your gateway to the Grenadines. Soon you will sail to the nearest island, Bequia, only 9 miles away.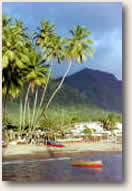 Day One: Meet your yacht in St. Vincent Blue Lagoon on the eastern side of Young Island Cut. Enjoy an afternoon sail to Bequia, home of the first sailing whaleboats in the world. Subsistence whaling still takes place here by the local community. This is a charming island of sea-faring traditions, steeped in nautical history. Wooden schooners are still built on the beaches. Settle into your first evening's anchorage in picturesque Admiralty Bay. You will likely be greeted by the Bequian boat boys wanting to sell you trinkets, local fish and fruits or to play you music on homemade instruments.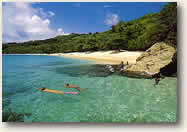 Day Two: Spend this day exploring the 7 miles long, Bequia, a paradise complete with quiet lagoons, gorgeous reefs and long stretches of near-deserted beaches. This island is beautifully lush, and intimate. Sail around the western end of Bequia passing Moonhole, an architectural wonder made from rocks. Enjoy lunch and some delightful snorkeling anchored at Petite Nevis. For the evening you may sail north to Friendship Bay on Bequia or sail south to Britannia Bay on Mustique.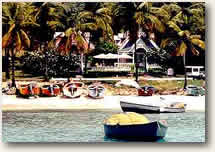 Day Three: Mustique, only 3 miles long by 1 1/2 miles wide, was completely unspoiled just twenty years ago, then it was bought and gradually developed. Today it is the home of sophisticated beachcombers of society and fame who were lured by safe, warm waters, varied terrain and breathtaking views. Mick Jagger, David Bowie, Raquel Welch, Princess Margaret are a among the fortunate few who have homes on this island gem. Go see what all the fuss is about for yourself.
Day Four: Sail to the crescent-shaped island of Canouan (can-ou-on) surrounded by wide shallows and coral reefs. If you are a diver, you will want to linger here awhile to take in the kaleidoscope of underwater colors. The islanders are mainly fisherman and farmers. There are many perfect beaches and unspoiled scenery to feast your senses.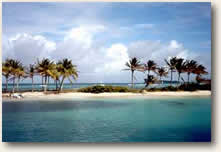 In the afternoon, set sail, for only an hour, to the unspoiled island of Mayreau, and anchor in beautiful Salt Whistle Bay where there is a long white, sandy beach and crystal clear water. Mayreau (my-roe) has about 40 to 60 inhabitants – again mainly fishermen and small farmers. As with most down islands, it is only accessible by boat.
Day Five: Wake up in a pristine Mayreau bay, go for a refreshing splash and snorkel. Just to the south, at Saline Bay, you can snorkel or dive the wreck of a World War 1 gunboat. Perhaps you will go for an afternon climb up the hill for a stunning view of the Tobago Cays before another fabulous dinner and Caribbean sunset.
Day Six: Only a half an hour's sail and you'll be reveling in the Tobago Cays. For many, this national marine park represents the high light of the Grenadines. The uninhabited Cays, numerous islets and coves are protected by spectacular coral reefs. This is a rare tropical paradise that only those coming from boat are able to appreciate. No homes, no beach bars, nor tee-shirt shops, just you in a natural heaven.
Day Seven: If you are leaving from St. Vincent it is time for a leisurely sail back, with time to stop at a cay or two on your way. If you are leaving from Union or Grenada, and especially if you are on a ten day itinerary, you can enjoy some more islands.
For those with more time or those leaving from Union, you can visit more islands:
Palm Island – Just a short hop from the Tobago Cays, Mayreau or Union Island, this is a favorite lunch-time stop. This small island resort has 24 beach-front stone cottages, open-air dining and beautiful white, sandy beaches. Palm Island is – surrounded to the north, south and east by coral reefs – so access is limited to a launch from Union Island, or your own boat, of course. Of its four beaches, Casvarina, is reputed to be one of the finest in the Grenadines.
Union Island – half an hour's sail from Palm Island
This is the yachting centre of the southern Grenadines where yachtsmen can take on water, fuel and provisions and where they can clear Customs and Immigration before heading down to Carriacou and Grenada. Clifton Harbor is a bustling main port with a cosmopolitan atmosphere complete with supermarkets and boutiques. Be sure to visit the shark collection in the pool at the Anchorage Hotel. You may want to stop for a drink or a meal at one of the characteristic local bars and restaurants. This island is tiny, 3 by 1 mile, with dramatic mountains, the highest being Mount Parnassus some 900 feet above sea level with a matterhorn-like pinnacle. There is a trail to the top if you are feeling energetic. For those departing from Union, the airport is just off the dock at the Anchorage Yacht Club in Clifton. Others with more time will venture on toward Grenada.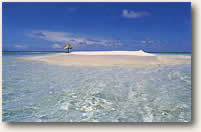 Mopion or Pinel, two sand spits that may, or may not, boast a palm frond umbrella to shelter the "shipwrecked" charterer. They are all situated quite close to Union Island.
Petit St Vincent ("PSV") – An hour's sail from Union Island
This southernmost of the St Vincent Grenadines is a 113-acre resort on beautifully landscaped rolling hills surrounded by white sandy beaches. Take a romp to the restaurant on top of the hill and take in the stunning views. Sailors from all over the world are attracted to this island over the American Thanksgiving Holiday weekend when yacht races are sponsored.
Carriacou is another stop for those onboard for more than a week. Have lunch and a swim on Sandy Cay a sunning station for pelicans and seagulls and you. catch the wind to Carriacou, the home of the Carriacou Trading Schooners. Even today, these unique island sail boats carry their trade back and forth under sail, as they have done for decades. Anchor in Tyrell Bay and enjoy!.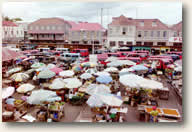 Grenada: The next day sail on towards Grenada, one of the largest islands in this area, known as the Spice Island, sometimes you can smell the nutmeg on the air while sailing down the coast and enter St George's, one of the most beautiful anchorages in the Caribbean and a historically and culturally fascinating place with ancient battlements protecting her.
G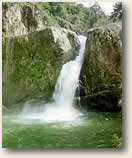 renada exports its produce internationally – bananas, citrus fruits, pineapples, avocadoes, cashews, nutmeg and other spices. Don't miss the local market with the myriad of bright colours, fruits, vegetables, sun umbrellas, and Caribbean clothing, a vibrant picture and extravaganza for the senses.Inland, Grenada is an island of forests, streams, waterfalls and plantations. If you have time, rent a car and tour the island. Cross the Grand Etang mountain through the rain forest. You will find the interior to be beautiful and the people warm and welcoming.
Grenada is the perfect place to end a trip through the Grenadines. It has an international airport with direct connections to the USA and Europe.
Speak to a charter broker 888-730-SAIL (7245)