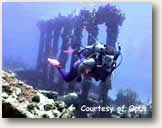 On a sail or motor yacht scuba diving vacation you will be able to experience the best dive sites any cruising area has to offer. From a private yacht you can sail or motor to spectacular dive sites from ship wrecks to stunning coral reefs in the warm Caribbean waters to the crystal clear Aegean.
No worry about crowds, and on a crewed charter your knowledgeable crew know just where the pristine reefs are for you to enjoy with respect and dignity. All our dive yachts have crew that are at least Dive Masters and many who are Instructors so your scuba diving holiday will be safe, rewarding, and very special. There are even some cabin cruise charters that specialize in SCUBA vacations.
If you opt to captain your own bareboat charter, we are happy to assist you in finding the most professional local scuba dive operations so that you can be equipped and ready to dive during your charter. Please inquire for charters that offer scuba diving directly from your private yacht.
Many crewed yachts offer Scuba Certification or Discover Diving Courses. See course descriptions below.
---
Learn to Scuba Dive from a Private Yacht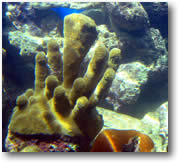 You can learn to SCUBA dive while on vacation in the beautiful Caribbean on a crewed yacht charter. It is the perfect place to do Scuba instruction, with crystal clear water and gorgeous shallow coral reefs. See a list of some of the amazing Virgin Islands dive sites.
Expert dive instructors will give you personal attention as you sail to many dive sites during your week vacation and practice your dive training with the fish. The following are Scuba courses and certifications available: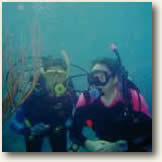 –Discover Scuba Diving: Otherwise known as a Resort Course. This 3 hour introduction to scuba diving is perfect for someone who has always wanted to give diving a try. It allows you to dive during your vacation with a dive master. This introduction to the world of scuba is offered from a comfortable yacht with safe personalized lessons. This is a great way to become familiar and excited about diving before committing to full dive certification. Also, the skills you acquire can count towards PADI Scuba Diver or Open Water Diver Certifications.
–Scuba Diver Certification: Been thinking about getting certified but haven't had the time? This pre-entry level certification allows you to dive with a PADI professional anytime, anywhere! Plus, your Scuba Diver experience counts towards PADI Open Water Diver Certification.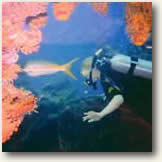 Ready for Referral Certification:
–Open Water Diver Certification: You're serious about your certification and have already completed your classroom and confined water modules, or you already have your Scuba Diver Certification. You can complete your Open Water Diver Certification while you're vacationing in the beautiful Caribbean Islands. What could be better?
For the Certified Diver:
–Advanced Open Water Certification: This certification program will advance your skills while allowing you to sample the specialties that interest you. Have fun while you increase your diving skills!
Adventure Diving:
Adventure awaits you! Choose from the following varieties of adventure dives, and receive credit towards continuing education! A great way to get credit for fun! Select yachts offer some of these.
—Deep Dive*¥
—Wreck Dive*¥
—Night Dive*
—Underwater Photography*
—Boat Dive*
—Underwater Navigation*
—Multilevel Dive
—Search & Recovery Dive
—Underwater Naturalist
—Peak Performance Buoyancy
—AWARE Fish Identification
* Specialty certifications are available for these on select yachts.
¥ Must be PADI Advanced Open Water Diver for these specialties.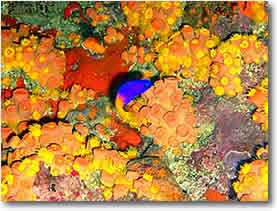 On many of our live aboard scuba vacations you can do a Full Scuba Dive Certification class. However, we recommend that you complete your classroom and confined water modules from home and then do your Open Water Dive Certification in warm water with lots of sea life to inspire you.
What could be better? You will be learning and enjoying the magnificent undersea life all in one fun filled week.
And to top it off, you can now do your Padi course work online before you set sail.
Ready to dive into the magical undersea world? Come sail there on a scuba yacht charter.